RESTORE FUNCTIONALITY & AESTHETICS
Replace All Of Your Teeth Using Multiple Dental Implant or Replace Your Missing Single Tooth Using Single Dental Implant.
Dental implants are designed to mimic natural teeth, having a root that is fully integrated into the jawbone and a dental crown for a natural look. Whether you want to restore one tooth or all of your teeth, dental implants will give the best results every time.
What makes dental implants feel completely comfortable and secure?
We use a medical-grade titanium implant fixture that, over time, actually fuses to the living bone cells of the jaw. This union forms a strong and durable anchor for your new teeth, meaning there's no slippage or other movements (which can sometimes happen with dentures).
Dental implants typically have three parts:

The implant
A screw that serves as a root for your new teeth. This is what permanently attaches to your jaw.

The abutment
A permanent, but removable by your doctor, connector that supports and holds a tooth or set of teeth.

The crown
This is the part of the tooth that you can see. It's usually made of zirconium or porcelain for durability and good looks.
You can use dental implants to replace a single tooth, multiple teeth or a full upper and/or lower set of teeth. If you need to restore a full arch, you may be a perfect candidate for the all-on-four treatment.
Single Dental Implant
Today, for single tooth replacement, a dental implant is considered to be "The Standard of Care". When a single tooth is missing, a single fixture is used to support a single crown.
An additional benefit to single a tooth implant is that it can help prevent bone loss. This can not be accomplished by wearing a conventional dental bridge. That is because the implant stimulates the bone, through regular chewing and biting, which helps to stave off deterioration of the jaw.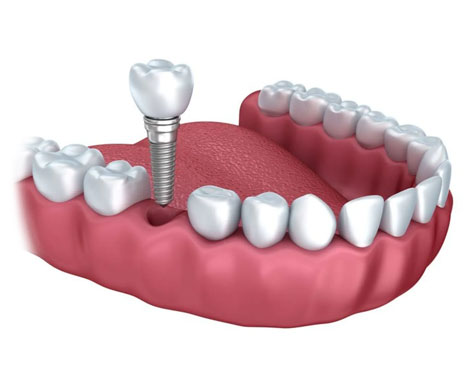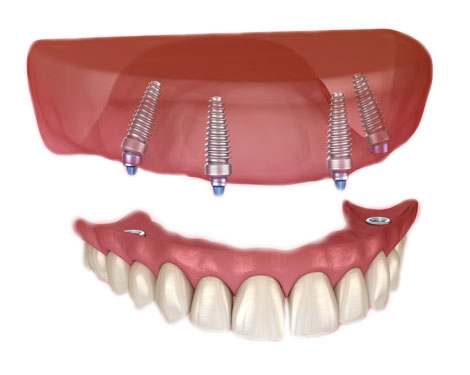 All-on-4 Dental Implants
All-on-4 Dental Implants is the best way to replace your missing teeth and dentures with the use of materials and advanced technology.
By using 4 dental implants, it can support a whole arch of your teeth, and this can either be used on the upper or lower jaw to replace your missing teeth immediately which not only looks similar but also functions normally as like your natural teeth.
Benefits Of Dental Implants Over Other Tooth Replacement Options
We use Computer Guided Dental Implants Technology, ensuring superior implant placement and results which inturn has the following benefits:
Improved Comfort Level
Dentures have the tendency to slip while eating or speaking making them quite uncomfortable in these situations. With dental implants you won't have that problem since they are secured directly to your jawbone.
Superior Oral Health
Poorly fitted dentures or bridges will create areas where plaque can accumulate, which can result in gum disease or tooth decay for nearby teeth. This problem is eliminated with dental implants because just like in natural teeth, implants provide easy access to spaces between teeth allowing you to clean them regularly.
More Resilient
As long as they are properly cared for, dental implants can last a lifetime without needing a replacement. Even though the initial cost may be higher for dental implants, in the long run it will be more cost efficient than the replacement costs associated with dentures and bridges.
Jawbone Structure Preservation
With the absence of your natural teeth, your jawbone structure will begin to shrink in order to close off any gaps caused by missing roots. This deterioration of the jawbone will in turn cause your face to age rapidly. Dental implants fill these gaps with artificial titanium roots preserving your jawbone structure and appearance.
Contact Us Today For Pricing, Inquiries And To Book A Free Consultation